COMING SOON!
YaYa Wallet products and services will be launched soon, stay tuned!
✓ Cash-in and cash-out
✓ Local money transfer
✓ Inward remittance
✓ Microfinance services
YaYa Wallet
Simple, Fast & Secure Birr Wallet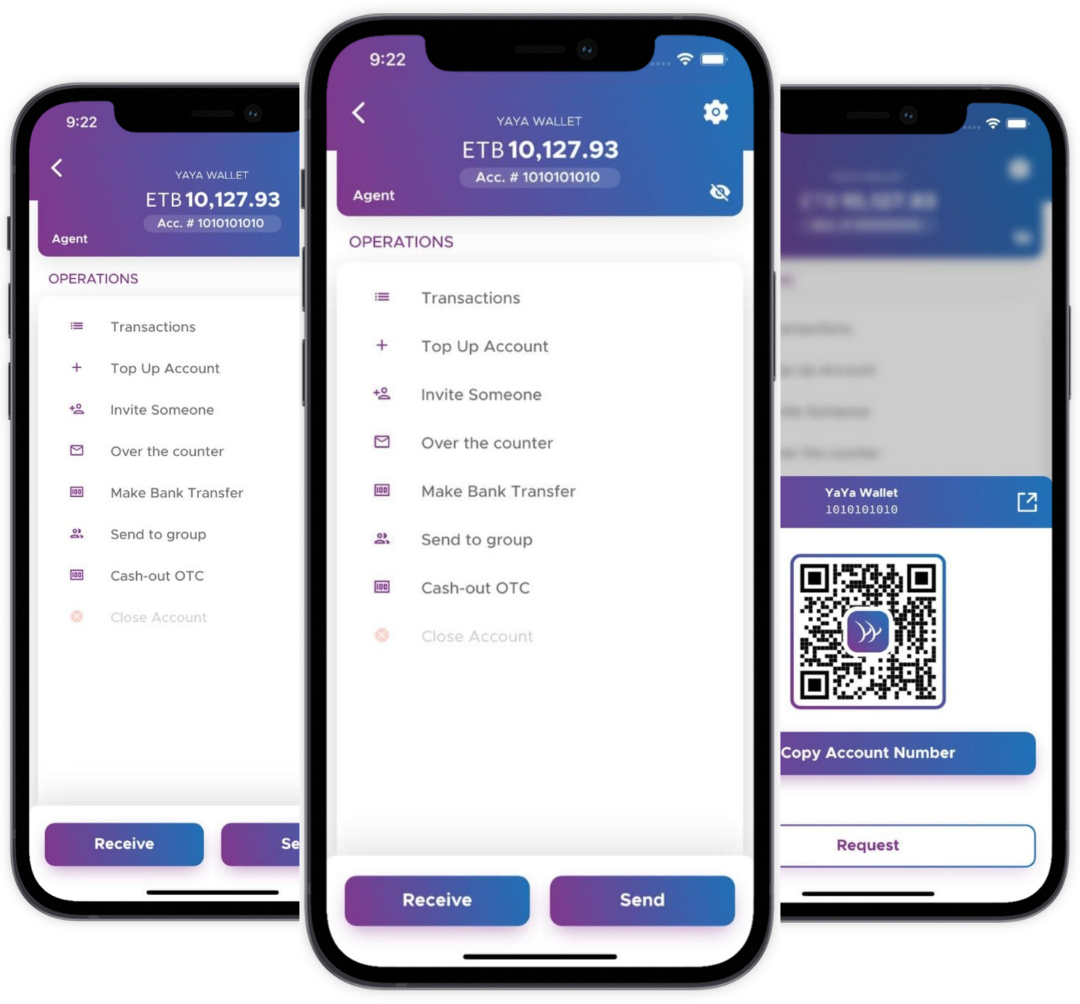 Our Services
The safest, quickest, and modern solution to make and receive payments.
For individuals, no need to carrying cash - payments are a phone click away

Avoid the risk of carrying cash. With cash there is chance of theft, fiddling for change, no tracking of what you spent and where, no access to remote payment, run out of cash, etc.

Get a YaYa account for personal use with your phone number and access various services including cash-in, cash-out, remote payments, receiving instant inward remittance, etc. Be it paying for lunch, go on a shopping spree or stay in a hotel, buying an item online - YaYa wallet gives your financial freedom 24 hours / 365 days.

Get started

For businesses, give your clients the pleasure of making seamless payments

Your customers deserve the best of everything - let's help you in achieving that. Create a YaYa Wallet business account now and your customers will be able to make payments whichever way they please. We offer your customers, with bank account or without, different payment methods from a unified wallet.

Additionally, our engineers will assist you integrate your internal systems with our payment ecosystem. Our solution provides you the simplest way to receive payments whether you are running an e-commerce, ride-hailing, bill, ticketing, or other service.

Explore more

For agents, earn money by assisting our users recharge/withdraw cash

Agents are partner companies that provide our services to customers, such as accepting/giving cash and exchanging it for electronic balance, cash-out over-the-counter transactions, remittance services, and support services. Join our network of agents and get extra revenue from commission payments.

Small shops, bank branches, barbershops, internet cafes, market stores, etc can become a YaYa agent and represent us wherever you are. You are authorized to get cash and transfer the equivalent electronic money to the customer's account, and vice versa.

Become an agent
All kind of payments be it for bill, ticket, shop, restaurant, taxi, etc.
Don't wanna deal with account numbers? Just add people to your contacts, and reach them later on with a single tap.
Learn more ...
In summary, what can you do with YaYa?
Create an accounts using your phone & an invitation code
Manage multiple YaYa accounts (private, business or agent)
Pay birr to anyone or any business (taxi, restaurant, ticket, etc)
Send birr instantly to anyone, anywhere in the world
Receive payments using QR codes
Secure your app using PIN and fingerprint authentication.
Top-up your balance using your bank account, paypal and cards
Upgrade account level to overcome transaction limits set by NBE
Make bank transfer to any bank account
Manage contacts in an intuitive, easy-to-use address book
View your accounts transaction history
Receive push notifications when you receive birr
Get live support directly from the app